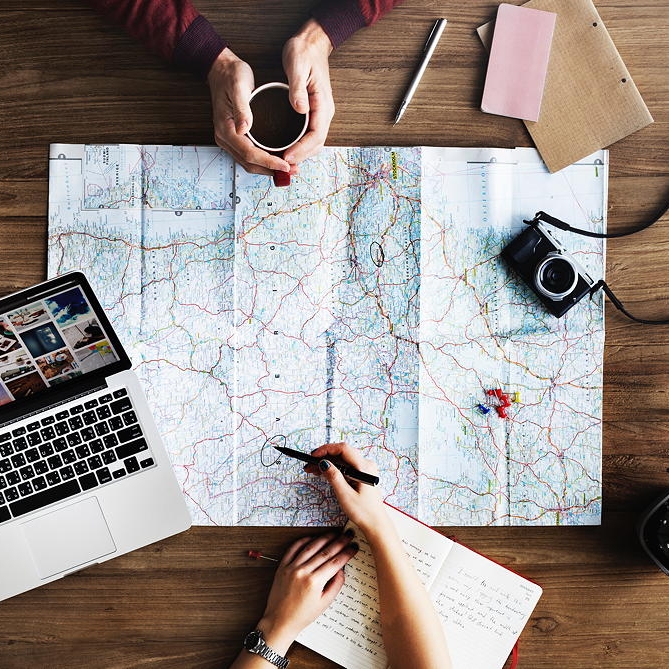 7 Best Luxury Travel Destinations For 2018
---
---
Are you planning a luxury vacation in 2018? When money is no object, the entire world becomes a destination. Here are seven top luxury vacations to put on your travel wish list. We have visited countless luxury destinations and will share our selection of the seven best destinations, all perfect choices for those who want to ensure their holiday kicks off in style. These top destinations are jaw-dropping and sure to offer an unforgettable experience. They redefine what a vacation can be.
Dubai, UAE - the City of Gold and Glamour
Think white-sand beaches, heat, bustling souks, Bedouin culture, futuristic architecture, crazy theme parks, huge malls and the most amazing skyline in the world – Dubai is a city that demands attention. It is a foodie's heaven - there is a diverse range of high-end food styles available in the city. Dubai is also a shopper's paradise – it is home to the biggest mall in the world, and high-end retail stores on every corner. If you want to do something crazy, Dubai is the place to go to – go skiing in the desert, drive a Formula 1 car or Fly-board – in Dubai anybody from any age can go crazy. Enjoy a cocktail or two in one of the slick beach bars and be entertained by world famous DJs. The biggest international nightclub brands like Pacha, Mahiki, and Blue Marlin Ibiza opened branches in the city as well.
New York, U.S. - the City that Never Sleeps
This city is larger than life! New York is the hub of the United States and the most famous, city in the world. The city's energy and cultural offerings are contagious. By day, luxury travelers explore the diverse neighborhoods, go shopping on 5th Avenue and visit the magical Central Park. By night, they enjoy dinner at one of the lively scene restaurants and go for a drink at one of the many luxury New York rooftop bars. Get a bird's eye view of all the famous buildings and the Manhattan skyline on a helicopter ride. You won't find a better view!
Paris, France - the City of Love
…and light. There is no more romantic city on earth than Paris. From historic boulevards to artsy enclaves and little cafés, everywhere you look, Paris is dotted with breathtaking monuments, luxury hotels, divine restaurants, fabulous cafés and fashionable boutiques. Do not forget to dress up in your most stylish clothes like the Parisians invented fashion! And buy some new fashionable clothes at the luxury shops of the Avenue des Champs-Élysées!
La Dolce Vita in Italy
The sweet life reigns in Italy. There are so many great cities in Italy that will sweep you off your feet. Venice is known for its glorious churches and luxury hotels; Rome for its classical ruins, Renaissance palazzos and Baroque fountains; Milan for its fashion, Armani, Prada, and Versace; Naples for its pizza and the Italian Alps for its excellent skiing adventures. From mountains to great beaches, Italy offers it all. And the best: Every city in Italy provides great neighborhood trattorias and a buzzing aperitivo scene. The mild Mediterranean climate is another persuasive draw - Italy will overwhelm you with its beauty.
Miami, U.S. - the hottest city
Miami will always remain one of the world's trendiest and flashiest hot spots in the luxury universe. South Beach, America's Riviera, however, is no longer the only place to pose in the city, trendy Wynwood with its famous street art has also become home to Miami's hipsters. Enjoy the cities international cuisines and cultural events. Join the artists, gallerists, and curators at world-famous Art Basel Miami, walk through Little Havana and drink a strong Cuban Coffee. For luxury travelers, the Miami Design District is the cherry on top. Think sun-kissed beaches with warm waves perfect for bathing, art-deco buildings, a creative arts scene, blazing nightlife and extraordinary cuisine! The freshest sushi, the most excellent Wagyu beef, lobsters – you will find it all in Miami.
Zurich, Switzerland – Rich in Nature
Think snow-covered peaks, cobblestone streets, a stunning crystal-clear lake, fabulous spas, out-of-this-world restaurants and the finest horologists in the world: Zurich is regularly recognized as one of Europe's hippest and most livable destinations. Zurich has built up a reputation as a shopping city with world-famous brands as well as large, impressive department stores. Attractively set at the meeting of river and lake, Zurich has an artsy, post-industrial edge and some superb luxury hotels. Do not be foolish - add this culturally vibrant city to your bucket list.
Futuristic China
China will surprise you: It has the world's richest breadth of culture, the most spectacular natural wonders, and the most impressive and futuristic architecture. Discover the contrast between the dynastic palaces and the futuristic sky scratchers. This enterprising mega-nation has quickly built its own luxury (travel) industry. All the elite luxury hotel brands want to be present in China. Experience a truly unforgettable journey when traveling through China'smost remarkable destinations in luxury!