Tips for choosing the best event vendors
---
---
Have you recently started hosting events in your hotel? Do you have a big event coming up in your premises? Are you an events manager hosting your first event inside an independent boutique hotel? We understand how challenging it can be to find the right vendor or supplier for your event, as they are the ones who will make or break your night. If the event does not go smoothly, not only will this reflect badly on you and your hotel, it could also damage the relationship you have with your clients and even other vendors. Don't risk it! Follow the list of event planning tips below and choose the right partner or partners to guarantee the success of your event.
1. Establish your requirements
Chances are you will be working with more than one vendor or supplier on your next event. Think: what kind of vendors do you need? Some examples include AV suppliers, florists, caterers/bartenders, performers, photographers/videographers, graphic designers, waiting staff, security, etc. The sheer number of providers out there for each category can add a layer of difficulty when it comes to narrowing down your choices.
To make things easier before starting your search, make a list of the things you need each vendor to provide (i.e. your requirements). According to how experienced and skilled they are, they might know what you need better than you do, so take advantage of their expertise and listen to their recommendations. Those who are the most responsive are likely to go the extra mile for you on the day of the event.
Here it is also very important to establish your budget plan – what is your ideal budget? What is the highest you can go? Having these numbers clearly figured out will help during the negotiation phase.
In order to have some flexibility to scale up or down when presenting your options to the client, ask your preferred event supplier to provide you with quotes for different levels of services. For example, if you are approaching a caterer, you could ask for a quote for a 3-course set menu and a quote for a hot and cold table buffet.
2. Reach out to your network
When picking the right vendor or supplier, it is important that you consult with your network of other hoteliers, entrepreneurs and event professionals, who can provide personal recommendations. Also check for testimonials and referrals on different social media platforms, such as Facebook and LinkedIn, and review sites like Yelp. After a thorough research, you might get information on the best event suppliers in town.
Make sure you compile a list of preliminary event vendors that fit your basic requirements. Have a look at their websites to check if they have experience in the kind of event you are hosting. The next step will be to send vendors the same brief so you can compare the different quotes and proposals. To avoid wasting time, make sure to inquire about their availability. With the help of a spreadsheet, register all this information so you can cross out the ones that do not meet your needs.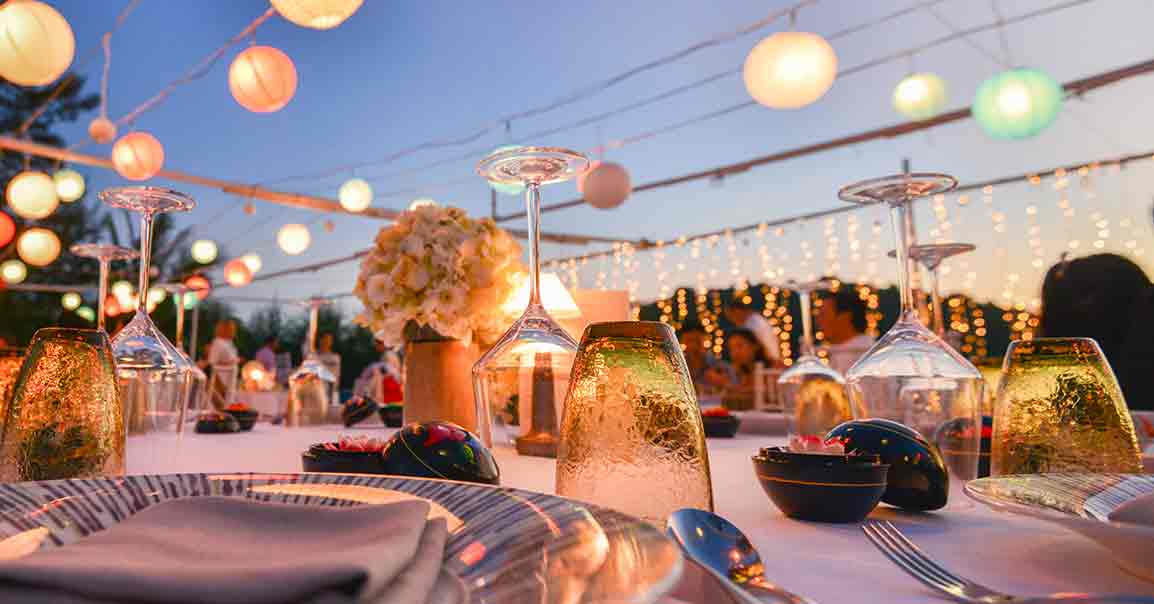 3. Have that initial discussion
The next step in the process will be to approach the shortlisted vendors to further discuss your needs. Try to have this conversation in person to have a better sense of the people you could potentially be working with. Offer them as much detail as possible, so they can tailor their proposals to your specific requirements; it goes without saying that you should make sure they meet all of them.
Request to see samples of previous experience working for the hotel industry and in events like yours. Also discuss what contingencies they have in place if something goes wrong to make sure everything runs smoothly on the day. If relevant, organize a site visit so that the suppliers can familiarize themselves with the facilities, which can help them realize your vision. If working with caterers, organize a tasting, as booking a caterer without one is risky. A good indicator of a great provider is whether they are flexible with the menu and receptive to your suggestions.
4. Don't base your decision purely on cost
Another important point in the agenda is pricing. Ensure vendors clearly detail all charges, so that there are no hidden surprises when you decide to book. The last thing you want after the event is to be hit with a bill with additional charges that were not anticipated.
Another great tip is to request a few quotes, not just one quote from your preferred vendor. It is good practice to compare different suppliers and see what the industry price standard is. This will serve as a benchmark now and in the future.
And the last piece of advice on price from seasoned pros is: do not base your decision purely on cost. If you are working with a limited budget, try to find other areas to trim it down and only hire the vendors you absolutely need.
5. Draw up the agreement
Once you are ready to go ahead with your preferred supplier, it's time to sign the vendor agreement. Do not forget to read the small print and make sure it includes the following elements:
Complete description of service
Description of equipment vendor will provide
Listing of additional services vendor will provide, if any
Description of costs and payment terms
Proof of insurance and any other risk-management practices
List of vendor requirements (water, electricity, etc.)
You may also want to take advantage of the opportunity to negotiate a few things, such as a prepayment discount for paying in full before the event or a complimentary extra. For example, a florist that provides centerpieces and other floral arrangements for a wedding may provide a free bouquet for the bride.
As you can see, when it comes to selecting vendors and suppliers, making your due diligence does pay off.