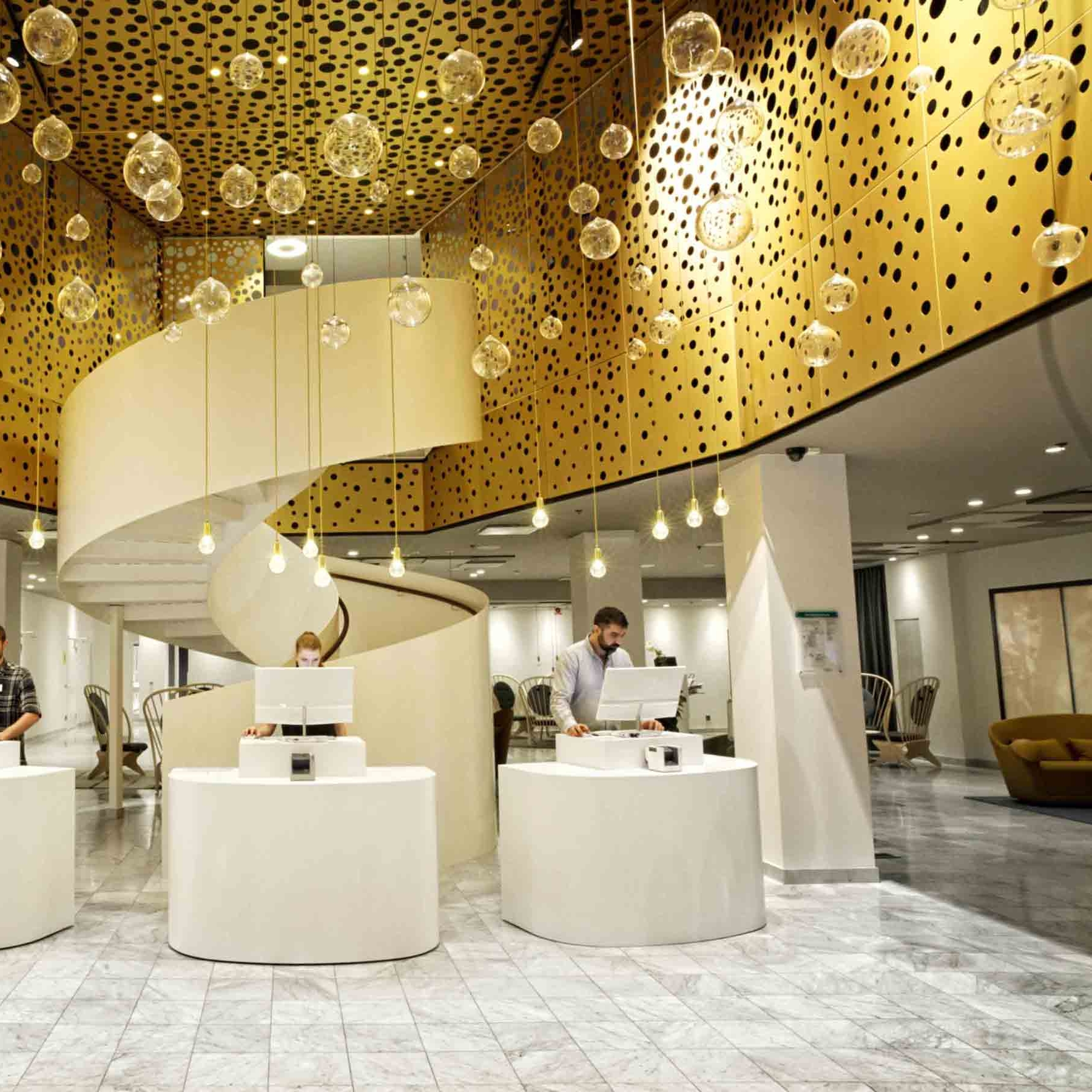 The evolution of the hotel front desk
---
---
The evolution of the hotel front desk
Technology is revolutionizing many industries, and the hotel industry is no different. While many hoteliers turn to different tech solutions to streamline the check-in and check-out processes, others fear that this strong emphasis on front desk tech, while efficient, clearly lacks some humanity. Hotel technology has been transforming hotels and the industry itself, but in recent years its impact has been mainly felt in one pivotal area–their front desks.
The hotel front desk redesigned
Interior designers are turning the concept of the hotel front desk on its head, all thanks to technology. In the past, front desks needed to house a lot of equipment, which affected the different design choices, resulting in a somewhat bulky reception area. Now, with smaller and even wireless devices, the front desk can be cleaner, sleeker and more elegant as designers have an opportunity to create more beautiful spaces. The desks and layout at the Apple Stores, for example, serve as an inspiration for many hotel interior designers.
More and more hotels are opting to equip their staff with tablets instead of PCs, a sensible option, especially considering the arrival of smartphone essential access and credit card readers available for tablets.
Is the future faceless?
While some hotels are reluctant to implement so much tech at their front desks, others are fully embracing all the benefits new technologies have to offer; for example, it is now easier than ever to track guest preferences across stays, making the check-in/check-out process so much smoother.
Many industry insiders believe that the future of the hospitality industry is a faceless front desk. Automatic check-in technology has seen a considerable uptake by many hotel chains. With smartphone room entry, guests no longer need to stop by the reception to collect their keys. This technology gives them the possibility to book their rooms online and, on their check-in date, they simply receive a text message with their room number and can go straight into their room, either by placing their smartphone near the door lock or by punching in a code.
Some techie hotel chains have even started to implement facial recognition technology – guests check in at the front desk, their picture is taken, and then they are assigned a room number, no keys involved. A case in point is the Henn-na Hotel in Japan, which not only has already implemented facial recognition software, but it is also staffed entirely by robots. Inside some rooms, you will also find a Chu-ri-chan, a cute little electronic creature on top of your bedside table. It will switch the lights on, offer weather forecasts and make wake-up calls. How neat is that?
The quest to keep the human touch
Some hoteliers, especially the owners of luxury or boutique hotels, are not so quick to jump on the technology bandwagon since they believe the front desk plays a vital part in the guest experience. The way the door attendant and front desk employee greet you when you walk through the door is part of their brand, as is how they make you feel. Customer service is one of their main differentiators.
In recent years, there has been a broader cultural shift – more and more, customers would prefer not to be treated like gadgets. In that constant quest to strike a happy medium between technology and humanity, hoteliers and general managers continue to innovate and test new technologies. The future is certainly looking bright for the hotel front desk.