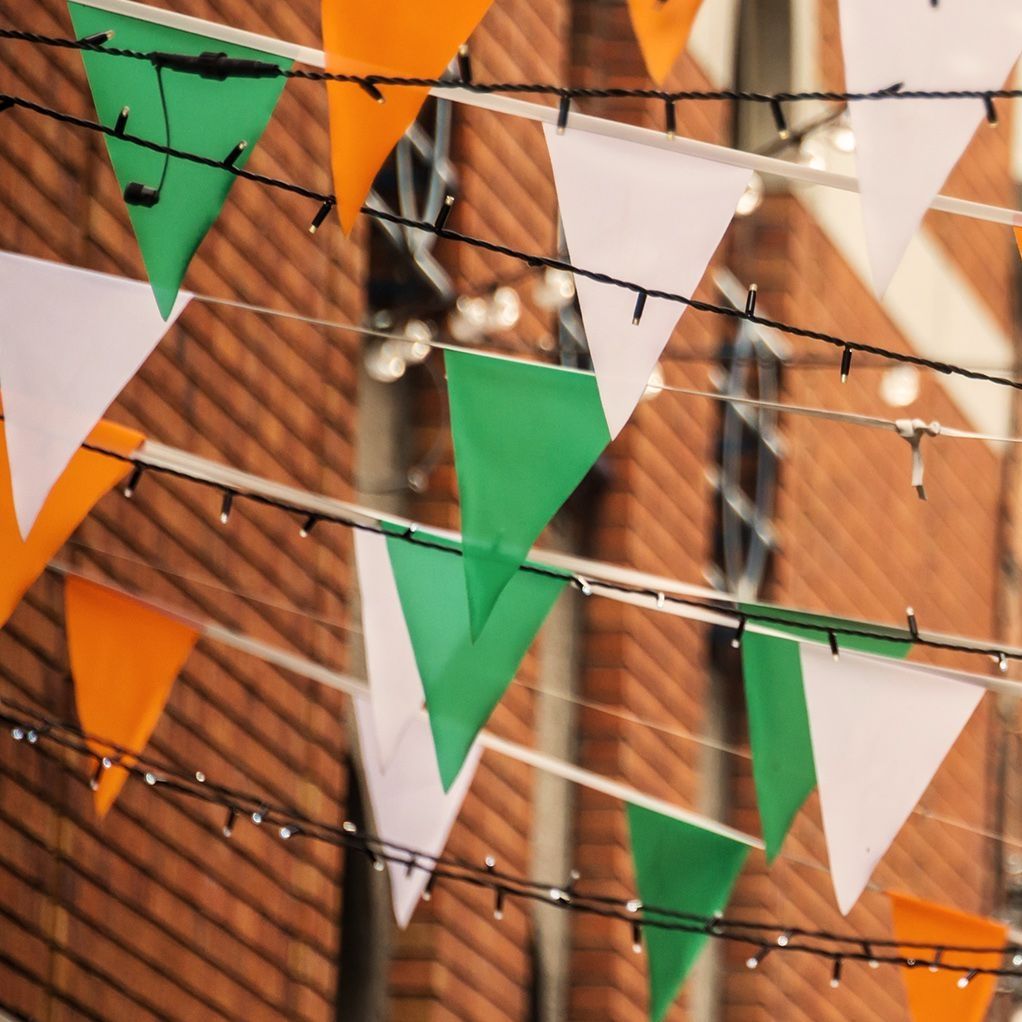 The 10 Best Destinations Around the World to Celebrate St. Patrick's Day
---
---
St. Patrick's Day is a celebration of Irish culture and heritage with parades and parties. The festivities fall on March 17 every year. Saint Patrick is Ireland's most important patron saint. The bishop was a missionary in Ireland in the 5th century AD. But not only in Dublin: St. Patrick's Day is celebrated all over the world - from Sydney to Montserrat and Chicago to Buenos Aires. The wearing of the green is a worldwide event, where people celebrate Ireland in their own unique ways. Everyone is Irish on March 17. That is why in many places, St. Patrick's Day has become a season with massive parades and raucous parties. In 2019, this event falls on a Sunday.
March is around the corner and it is nearly that time of the year again where Guinness flows from the taps and where we hope that gold does wait for us at the end of the rainbow. St. Patrick's Day is nearly here and we couldn't be happier! In this blogpost, we put together the best places to drink a lot of Guinness and celebrate Irish culture. Here's what St. Patrick's Day celebrations look like around the world:
New York City, USA
St. Patrick's Day is celebrated with big parties and parades in North America. St. Patrick's Day in New York is a great spectacle. New York City has held official celebrations in honor of this holiday since 1762 and the parade today attracts more than two million visitors to join in on the fun. The city claims to be the biggest St. Patrick's parade in the world. It is probably the most important holiday of the Irish-American community with lots of delicious green food, green beer and a big parade with bagpipes, bands, dancers -of course also in green. The whole city turns into a huge party mile. Thirteen percent of New Yorkers claim Irish ancestry, but on the 17th of March everybody is partying, including Americans who don't have Irish ancestors. The Empire State Building also swims on this green wave of euphoria and glows green on the evening of St. Patrick's Day. The NYC St. Patrick's Day Parade can be viewed along 5th Avenue between 44th Street and 79th Street from 11:00 a.m. to 5:00 p.m. Even if green doesn't suit you, you should join in the fun and wear meadow-colored clothes - especially if you don't want to attract attention!
Dublin, Ireland
Well, that's no surprise: If you want to celebrate St. Patrick's Day properly, you have to go to the Irish capital! That's where it gets real crazy and the celebrations last much longer than just a single day. St. Patrick's Day is a public holiday in Ireland. In Dublin, the parade may not be as big as in New York, but the celebration lasts longer: The Irish capital celebrates this special day with a week of festivities including boat races, street and music performances, the Irish Beer & Whisky Festival and a massive parade which proceeds from Parnell Square to St. Patrick's Cathedral. Don't forget: Put on green clothes - best from head to toe - and the absolute "must have" accessory is of course a Guinness that flows in masses for this event. This year's celebrations start on March 14 - with the parade happening on March 17. This year's theme is "Storytelling".
London, UK
Although St. Patrick's Day is not a public holiday in England, London celebrates St. Patrick´s Day every year with fun and spectacular events, such as a parade of marches, processions, flamboyant pageantry, elaborate floats, marching bands and street theatre. The UK has more Irish emigrants than anywhere else in the world. At the London parade, all 32 Irish counties are represented in their traditional colors. St. Patrick´s Day is celebrated throughout London and many pubs and bars organize parties in honor of Ireland's patron saint. You can expect green decorations, traditional Irish drinks and lots of fun! This year's theme is #LondonIsOpen and the main celebrations take place on Sunday March 17. The parade passes some of London's most iconic landmarks, including Piccadilly Circus and Trafalgar Square on a 1.5-mile (2.4km) route. There will also be an all-day festival in Trafalgar Square with performances by well-known Irish acts and lots of Irish food.
Boston, USA
St. Patrick's Dayis actually an official Boston (and Suffolk County) holiday because it happens to fall on Evacuation Day. St. Patrick's Day celebrations in Boston are legendary. Irish culture and pride are deeply rooted here: almost a quarter of Boston's residents claim to have Irish ancestors. The festivities often begin weeks before the actual holiday. During this time there is live music on every corner, an Irish film festival and numerous festivities in Irish bars and local breweries. The popular parade takes place in South Boston. Up to a million people line up along the route to catch a glimpse of the colorful floats, Irish and American pipe and drum bands. Apart from a parade, there are "green" parties all over the city. You shouldn't miss the Irish Pub Black Rose. In this pub adorned with Irish flags, live bands play the most well-known songs.
Chicago, USA
Chicago takes St. Patrick's Day celebrations to the next level: You will hardly believe your eyes when you see the green river for the first time. At the insistence of environmentalists, since the 1966 parade uranine has no longer been used to color the Chicago River, but a vegetable dye that is harmless to nature has been used. The exact composition of the (orange) powder is still kept secret. The celebrations always take place on Saturdays. First the Chicago River is colored green, then the parade begins, which becomes something very special with bagpipers, Irish dancers and Clydesdale horses. The parade lasts for three hours and follows a route from Columbus Drive through Grant Park. Usually the parade turns into a huge street party in Division Street and around Grant Park during the day. In Chicago, the continuation of Irish traditions is carried out with great passion and commitment. As a St. Patrick's Day fan, this celebration must be on your bucket list
Montserrat, British overseas territory
Montserrat celebrates St. Patrick's Day with a Caribbean twist. The British overseas territory of Montserrat is considered to be the "Emerald Isle" of the Caribbean because it was settled by Irish refugees from St Kitts and Nevis. Apart from Canada and Ireland, it is the only place in the world where St. Patrick's Day is an official holiday. Montserrat boasts centuries of Irish influence, and its annual festivities blend Irish and African traditions. The festivities stretch out for a decadent ten days with events such as a freedom run from Cudjoe Head to Salem Park, a nature hike, and a junior calypso competition. You will be able to try traditional food and play traditional games - all with a distinct Caribbean flavor. The main event is the Masquerade, where Montserratians dress in colorful hats resembling bishops' miters, dance Irish jigs, and crack whips. This is one of Montserrat's most popular annual events. If you want to spend St. Patrick's Day on the beach, you've come to the right place!
Buenos Aires, Argentina
It's always party time in Buenos Aires, but when St. Patrick's Day is just around the corner, things get even wilder in Argentina's capital. Though the city is often called the Paris of South America, on March 17th it looks more like Dublin. Roughly 500,000 Argentines are of Irish descent. In Buenos Aires, they celebrate their heritage with Irish film screenings, pub crawls, and a massive parade, the largest St. Patrick's Day celebration in South America.
Singapore
Singapore may not have a huge Irish population, but it has a St. Patrick's Day sponsored by Guinness. The three-day festival celebrates all things Irish with plenty of Guinness and live music performances. Singapore's St. Patrick's Day Parade is the largest celebration in Southeast Asia. The River is dyed green, a massive street festival takes place in Boat Quay and authentic Irish bites and beers are offered in Clarke Quay. Kick off the celebration by painting yourself green and transform into a glitzy leprechaun!
Istanbul, Turkey
Although Turkey may be far from Ireland, yet there are plenty of ways to celebrate St. Patrick's Day in Istanbul. St. Patrick's Weekend at James Joyce, the most established Irish venue in town, is legendary. This ultimate Irish meet-up spot is famous for its' weekend-long St. Patrick's Day celebrations and offers traditional Irish food, features traditional Irish Ceili dancing and live music. Irish musicians fly out from all over the world to attend the festivities.
Sydney, Australia
Sydney throws a huge themed party on the Sunday before St. Patrick's Day. It is a family-friendly event with an emphasis on community involvement. The event known as "The Green Gathering" even features a children's parade. Along the streets of Sydney and Prince Alfred Park, there is pre- and post-parade entertainment with Irish drinks, live entertainment, dancers and marching bands.
Paint your face green, strap on a ginger beard, pour yourself a Guinness and start planning your St. Patrick's Day 2019.